EVENTS
Canadian author Vicki Grant signed copies of her latest YA novel, 36 QUESTIONS THAT CHANGED MY MIND ABOUT YOU, on Feb 2 at the Ontario Library Association (OLA) Super Conference for an eager crowd of library staff, teachers and fans!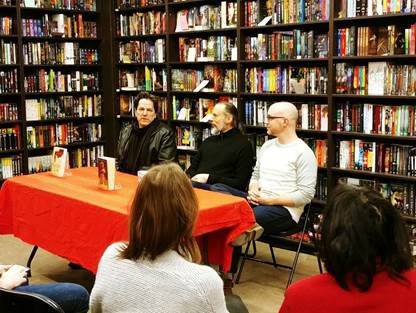 Canadian authors Miles Cameron, Nicholas Eames and Sebastien de Castell discussed their latest books and more during an entertaining and informative fantasy panel event at Bakka Phoenix Books on Feb 3.
REVIEWS
Named one of the "Most Anticipated Books of 2018" by Entertainment Weekly
The Globe and Mail shares a detailed and positive review of Saadia Zahidi's FIFTY MILLION RISING on Feb 1: "And this is the gist of the captivating book Fifty Million Rising […] Zahidi is able to seamlessly weave number crunching with personal interviews of Muslim women who are leading the transformation of their societies. In doing so, she is able to bring forth the beauty of individual trees, while sketching the contours of the emerging forest." [ATTACHED] (Nation Books / HC: 9781568585901, $36.50 / E: 9781568585918, $22.99 / Publicist: DN)
Award-winning economist Saadia Zahidi tracks the quiet revolution that is radically reshaping the Muslim world: the 50 million women who have entered the workforce and are upending their countries' economies and societies.