Animal Kingdom (9781454709107) by Millie Marotta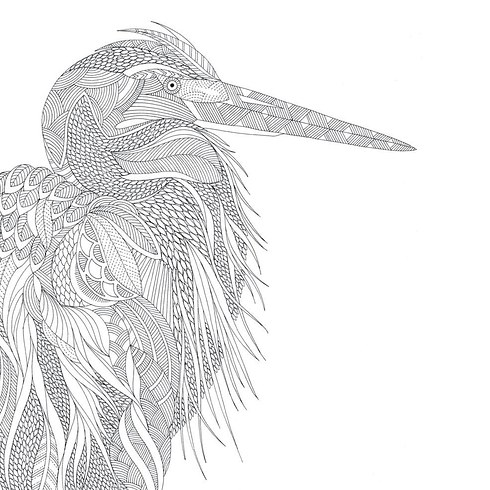 Millie Marotta is a hugely popular illustrator and her idiosyncratic drawings of the world's wonderful creatures will draw you in. Millie's Animal Kingdom offers a range of beautiful illustrations on quality paper to personalise and make your own.
Tropical World (9781454709138) by Millie Marotta
Lose yourself in a riot of colouring in and drawing as you bring the exotic creatures and plants in Millie Marotta's Tropical Wonderland to life. Millie's intricate style of illustration encourages you to make your own mark, whether it's to add to the fine lines on trees or add a splash of colour to the feathers of a tropical parrot.
Color Me Calm (9781937994778) by Lacy Mucklow (Author) and Angela Porter (Illustrator)
Color Me Calm is a guided coloring book designed for harried adults. Art therapist Lacy Mucklow and artist Angela Porter offer up 100 coloring templates all designed to help you get coloring and get relaxed.
Color Me Happy (9781937994761) by Lacy Mucklow (Author) and Angela Porter (Illustrator)
Featuring over 100 joyful coloring templates, Color Me Happy is a guided coloring book designed for busy adults. Organized into therapeutically-themed chapters, this book examines the benefits of putting pencil to paper and offers adults an opportunity to channel their anxiety into joyful creative accomplishment.
Creatures Great and Small: 35 Prints to Color (9781847806970) by Lucy Engelman
This is the first book in a series of coloring-in guides to popular subjects such as natural history and fashion, beautifully presented as a book of high-quality decorative black-and-white prints.
Secret Paris (9780316265829) and Secret New York (9780316265836) by Zoe de Las Cases
Wander through picturesque streets, visit quirky shops and cafes, and enjoy a uniquely French and New Yorker way of life in the course of these pages. As you focus on colouring in and forget the stresses of everyday life, you'll find calm returning.
The Big Book of Mandalas Coloring Book Volume 2 by Adams Media
An ancient form of meditative art, mandalas are known for their restorative power as well as their ability to provide tranquility and a sense of self. Filled with hundreds of customizable mandala illustrations, The Big Book of Mandalas Coloring Book, Volume 2 encourages you to express yourself by using your own unique palette to fill in every pattern.
Vive le Color: Liberty Coloring Book (9781617691805); Vive le Color: Butterflies Coloring Book (9781419719806) and Vive le Color: Japan Coloring Book (9781617691812) by Abrams Books
Colouring is calming! Adults are rediscovering the soothing effect of filling in colouring books, especially those with intricately beautiful designs. These themed colouring books offer 72 pages of iconic floral patterns, each printed on a single sheet of high-quality paper stock (suitable for multiple mediums).
Zen: 50 Mandalas to Help You De-Stress; Cats: 70 Designs to Help You De-Stress and Vintage: 70 Designs to Help You De-Stress by Octopus Books
As you concentrate on the simple action of colouring in, you will find your mind clearing and stress disappearing. The sheets in these padd are all detachable, so you can display your favourite creations.
Tangle Wood: A Captivating Coloring Book with Hidden Jewels (9781782213536) by Jessica Palmer
Illustrator and papercutter, Jessica Palmer, has created 75 pages of enchanting hand-drawn pictures for you to colour and lose yourself in. The images all have a magical woodland theme, and each one includes a a 'hidden jewel', intricately worked into the design, which will include rings, brooches, pendants, chains, bracelets and earrings featuring insects, animals and leafy patterns.
The Creative Colouring Book for Grown-Ups (9781782433286) by Michael O'Mara Books/IPG
Doodling and colouring have long been known to enhance one's thought processes and provide a relaxing yet highly creative way to free the mind. This new flexiback format is perfect for travelling, so you can channel your inner artist wherever you are!
Meditation Coloring Book: Wonderful images to melt your worries away and The Calm Coloring Book by Chartwell Books/Book Sales, INC.
These engaging books offer a wide and enticing range of gorgeous designs for you to color in and make your own. The mandalas and other abstract images will help to free your imagination and bring out your inner artist.